A trendy interior for this family home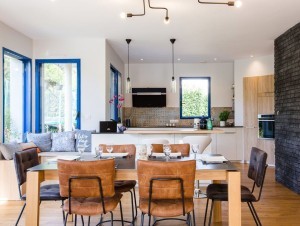 Cleverly brought up to date following renovations, this large family home is ready for a new chapter. If it wasn't in bad shape, like many homes that haven't been renovated for a long time, it needed updating. It was Lydie Pineau, from the Kiosque Déco agency, who imagined the outline of this metamorphosis.
I'architect interior designer and decorator has thus modernized the entire interior, now enhanced by a more elegant decoration. However, it had to adapt to a few constraints, the main one being the large indigo blue bay windows, which the owners wanted to keep for budget reasons. "Being able to change them would have allowed greater latitude on the decoration. It pushed me to look for other solutions, but on arrival the whole is harmonious"she welcomes.
On the program of this renovation: reinvest the large living room to offer more functional spaces and adapted to the daily life of the whole family. The kitchen-dining room has therefore been completely redesigned, the entrance has been redesigned around a well-defined space, as for the living room, it has also had a facelift. "We also had to review the acoustic part. The living room is very large, it resonated a lot. One of the walls in the kitchen, but also in the living room, was clad in facing brick to absorb some of the sounds" says the interior designer.
Discover the renovation in pictures in the following pages.