Architectural escapade in Canada with the exhibition "Atelier Pierre Thibault"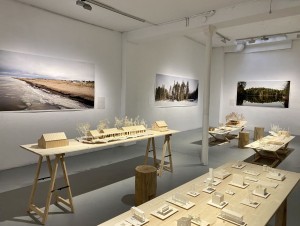 It is like an invitation to travel. The exhibition "Atelier Pierre Thibault: territories and landscapes", at the Galerie d'Architecture, in Paris, delights visitors with its simplicity and accessibility. Until May 27, 2023, the temporary installation illustrates the work of Quebecer Pierre Thibault, who has been committed for thirty years to imagining discreet and elegant architecture, in harmony with its environment.
Windows on Quebec
Through a series of photographs, numerous finely crafted models and a notebook full of sketches, the architect evokes his relationship to large spaces and establishes a dialogue between architecture and landscape. "I wanted to bring portions of territories to Paris", explains to Batiactu Pierre Thibault. "We have chosen to display large photos, which, under the effect of horizontality, give the impression of being windows on Quebec", smiles the curator of the exhibition.
You have 74% left to discover.