Because of the new housing breakdown, the Building faces "a new crisis"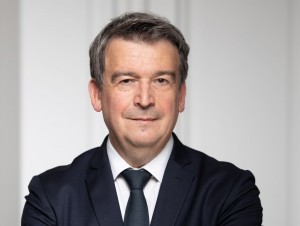 Is the Building on a dangerous slope? The tumble in housing construction is extremely worrying to professionals, alerted by the accumulation of crises and fearing serious repercussions on employment in the sector. "We are entering a new crisis, an additional crisis"warns Olivier Salleron, president of the French Building Federation (FFB). "The spring of the new housing is broken"thus threatening employment in 2024. "100,000 employees are in danger"he adds.
It must be said that the numbers are indeed not good. At the end of February 2023, housing starts fell by 1.1% year-on-year over three months, including -8.6% in the individual and +4.4% for the collective. Things are not likely to get better with the 26.7% drop in building permits for both individuals and groups.
"The numbers are collapsing", laments Olivier Salleron, also citing the 30.9% collapse in sales of individual home builders in 2022, and which still stand at -26.6% at the end of February 2023, year-on-year over two months. Developers are not doing much better, their transactions showing -24.3% year-on-year in the fourth quarter of 2022 and still being poorly oriented at the start of 2023. The FFB also notes a significant increase in sales cancellations, which it attributes to the contraction of the credit market.
Improvement-maintenance carries activity
"Without trend change, if nothing is done, housing starts will continue to collapse", Olivier Salleron is alarmed. The fall in new home sales should continue in 2023, with -20% expected. The situation could stabilize at a low level in 2024, before a further 25% collapse in housing starts between 2022 and 2025, which would fall to 274,000 units. "The long-term decline in new construction activity would be of the same magnitude, i.e. -25% excluding the price effect"completes the boss of the FFB.
New non-residential could also experience a crisis, even if for the time being it is blowing hot and cold. Surfaces started fell by 14.5% year-on-year over three months at the end of February 2023. On the other hand, authorized surfaces increased by 7.9%, with retail shops struggling but buildings in excellent shape tertiary and administrative premises. With a rather accommodating Zan (zero net artificialisation), the sector expects activity to be maintained at its 2022 level by 2025. The slowdown in offices and shops would be offset by the recovery of industrial sites, storage buildings and administrative premises.
Improvement-maintenance, for its part, made further progress. "It continues to drive activity, but with a somewhat disappointing energy renovation score", analyzes Olivier Salleron. Despite this, "530,000 construction workers work in a company EGRwhich goes against a received idea according to which there are not enough of us to take on energy renovation projects".
In the 4th quarter of 2022, its volume increased slightly by 1.8% year-on-year, including 1.4% for energy renovation, compared to +2.1% and +1.8% respectively over the whole of last year. The outlook for early 2023 bodes well for activity below its long-term average. Without an increase in aid schemes and without an improvement in the credit market, improvement-maintenance would only gain 2% on average and in volume each year by 2025.
Material prices still under pressure
"Renovation constitutes 55% of our turnover compared to 45% for new construction", summarizes Olivier Salleron. In general, Building production would fall by
You have 51% left to discover.