Building craftsmen want training for heritage trades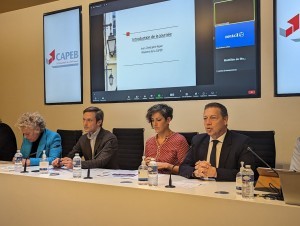 "Heritage is not a renewable resource. What is lost is lost."
The observation, made by Gabriel Turquet de Beauregard, architect of the buildings of France, proves to what extent this area, which constitutes one of the main riches of the country, deserves all the attention of the stakeholders. A debate took place, at the end of March 2023, on this subject, at the headquarters of the Confederation of crafts and small construction companies (
Capeb
). In 2022, just over half of the VSEs in the sector (52%) worked in this business segment – a share down from 2018 (61%). According to a study carried out by Xerfi for Capeb, this market last year represented 25% of craftsmen's turnover.
Recognized recruitment difficulties
Like other sectors of activity, the lack of manpower and training tends to slow down activity and cause the loss of know-how. "Training today is an act of survival"recalls Sébastien Laveaux, craftsman roofer. "Not training means letting techniques die. Today, the transmission of practices is done on the job, not everything is lined up. But we won't get there alone", adds the one who calls for the establishment of specific training. For 48% of business leaders surveyed by Capeb and Xerfi, recruiting labor in the heritage sector is even more difficult than for traditional trades.
The digital complement "necessary" to heritage
One reason for hope is "interest" young people from generation Z for the "culture of gesture", advances for his part Eric Le Dévéhat, president of the National Craft Union (UNA) of the plaster trades of Capeb. The integration of digital is also an attraction not to be overlooked. "It is a necessary complement to the heritage"even suggests Gabriel Turquet de Beauregard (ABF). "The proof is that we often see giants in this sector settling in heritage buildings, like Google France in a private mansion Parisian. Owners must be reminded of this reality."
Create porosities between trades
Fabienne Fendrich, chief urban architect of the State at the Ministry of Culture, would like to see the birth of a real chain of know-how that would include all the stakeholders. "We cannot be in a situation of segmentation between architectscraftsmen and contractors"she believes. "We need to create porosities between these areas, for example so that craftsmen can work and learn from architects"and vice versa.
La Capeb also took the opportunity to recall the existence of its professional identity certificate (CIP) mentioning heritage, created in 1998. This distinction is aimed at companies wishing to enhance their skills in this area. "Bring the heritage CIP to life!"thus asked a craftsman during the exchanges with the room. "With this baggage, you will be listed, you will be recognized, spotted."