CSTB launches a new environmental assessment tool for industry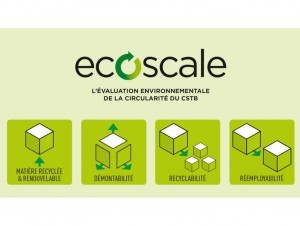 Ecoscale: this is the environmental assessment tool that has just been launched by the Scientific and Technical Building Center (CSTB). It will allow, assures the organization, to better understand the circularity of building products and equipment. Four areas will be addressed: recycled & renewable materials, disassembly, re-employability and recyclability. Ecoscale should thus enable construction industry to "promote their eco-design and circularity approach by means of a reliable and objective evaluation". The CSTB recalls the two main challenges faced by professionals in the sector, namely limiting greenhouse gas emissions and "reduction of the drain on resources".
Each of the four indicators will be given a score ranging from A to E. An Ecoscale database will be set up, to which QR codes will be sent, affixed to the products concerned. The tool "also allows clients, project managers and specifiers to simplify their research and clarify their choice of solutions that effectively meet the requirements of eco-design and circularity". Ecoscale was developed in consultation with all players in the construction industry, also assures the CSTB.