Decarbonization, a collective opportunity for the construction sector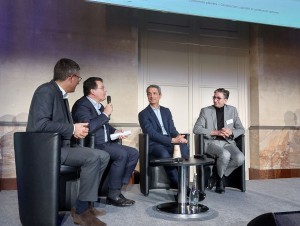 It was kind of a "test year". In 2022, against a backdrop of war in Ukraine, the energy crisis and an inflationary context such as France had not known for a long time, the subjects of sobriety and decarbonization have more than ever imposed themselves in the public debate. But what could be a constraint is rather viewed favorably by construction players, because even if production and energy costs have soared, this has allowed "a click" : we must accelerate in terms of decarbonization, to achieve the carbon neutrality objectives that France has set itself. It is both good for the planet, good for the sovereignty of the country, and good for the purchasing power of the French.
In any case, this is the observation made by the 4 speakers participating in the round table "Sobriety and decarbonization: construction, a strategic and committed sector", during the 2023 edition of Enerj-meeting on February 9, 2023 (organized by Batiactu Groupe). An exchange that brought together Olivier Roussat, CEO of the Bouygues group, Benoît Bazin, CEO of Saint-Gobain, Yannick Jacquemart, director of new flexibilities for the electrical system at RTE, and Damien Térouanne, deputy CEO of Engie Solutions.
Lower consumption
You have 79% left to discover.