discover the winners of the Start-up Trophies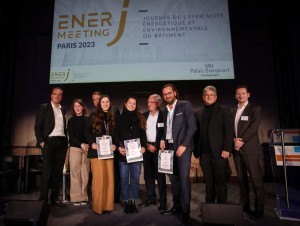 The winners of the Start-up Trophies have been unveiled. During the EnerJ-meeting event, organized by the Batiactu group, which took place on February 9, 2023 in Paris, three young shoots were rewarded. The Enogrid company, which develops solutions for project leaders and the
renewable energies
, received the Grand Jury Prize. The company trains and helps interested actors to pilot a project of
self-consumption
collective energy produced from ENR. The jury appreciated this process "
innovative
" and the fact that Enogrid offers "
a collective solution that goes beyond the building
", and which allows "
general self-consumption at the district level
".
Who are the other winners?
The special mention of the jury went to Lancey Energy Storage, which designed a heater intelligent capable of storing energy. This solution "responds to the challenges of massification, renovation and citizen involvement", considers the jury, which considers that the project "makes buildings actors of the global energy system"."The subject of better consumption in the context of heading towards 2030, the ability to erase oneself, store and self-consume", particularly sensitized him.
The start-up Agronergy won the jury prize. Born in 2013, the company manufactures biomass and geothermal boilersand is a supplier of renewable heat for eco-districts, buildings tertiaryschools, hospitals, swimming pools And industries. The jury rewarded "a local solution", which she sees as a "turnkey integrated and dedicated to the territories"."This global project highlights biomass while evoking circularity at the gates of cities."
Thirteen start-ups applied for this competition. All winners will benefit from a communication campaign worth 5,000 euros to enhance their visibility.