For Xavier Huillard, the debate on motorway concessions becomes "irrational"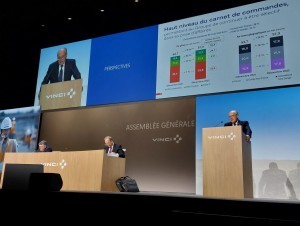 The topic of debate is not new. It even makes "seventeen years that I live with, since the day we won the right to operate the network", gets tired of Xavier Huillard, Chairman and CEO of the Vinci group. The question of the profitability of motorway concessions comes up very regularly. This is the case with each new increase in tolls, during election campaigns presidential, or in recurring positions taken in the press. Latest: that of senators Olivier Jacquin and Vincent Delahaye who calls on the State to "take back control of the highways" in a column published in the JDD early April 2023.
The economy of dealership companies watched closely. It was at the heart of the work of a senatorial commission of inquiry in 2020, was the subject of a new report by the Transport Regulatory Authority in early 2023, was also under the eye of the Inspection General of Finance (IGF) in 2021. But the latter's report was only made public recently, which did not fail to fuel suspicions and criticism around conclusions that the State would have liked to keep secret , for some people.