"GCC will create more value in 2030 by accentuating its entrepreneurial DNA"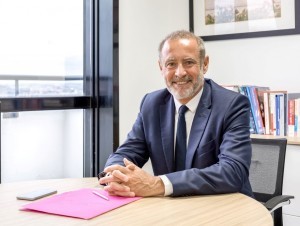 Its independence, GCC (for Civil Engineering Construction) took it at the turn of the 2000s, under the leadership of Claude Gaillard. The electricity activities that constituted the late Industrial Company were then bought up by energy groups. There remain construction activities, around which a few "concrete irreducible" as François Teste du Bailler calls them, under the impetus of Claude Gaillard, they wanted to build their own path. A first LBO – leveraged buyout operation – is launched, and "about twenty people entered the capital of a company with a turnover of 100 million euros in 2000"explains the man who became, on March 29, 2023, thanks to the 4th LBO, the new chairman of the group's management board.
In just over two decades, the group has developed around three businesses: construction, energy, and real estate development since the acquisition of Edelis in 2017. In 2022, GCC achieved a turnover of 1.150 billion euros, has 2,700 employees, relies on a decentralized model "near maximum" of 50 entities and a strong entrepreneurial culture.
This 4th LBO and the new organization, led by François Teste du Bailler, should allow the group to project itself into the current decade, to support its transformation, and ensure that it "create more value in 2030". With one guideline in mind, as explained by the new Chairman of the Management Board: to serve sustainable development, while maintaining the fundamentals. It was only a few days after taking office that Batiactu met François Teste du Bailler, at GCC headquarters.
Batiactu. What are the main characteristics of this 4th LBO?
Francois Teste du Bailler. The 3rd LBO dated back to 2015 with an executive company of around fifty people. Since then, the group has grown to rely on a base of three businesses, thanks to the acquisition of Edelis in 2017. This LBO was reaching maturity, some executives wanted to disengage and transmit. Not to mention the challenges awaiting us, the time had come to repeat history, on an equivalent model but with the desire to associate more executives with the performance and independence of the company. Thus, at the end of this operation, the company of executives was considerably enlarged, rejuvenated and feminized, going from around fifty to 150 people. Realize: all have chosen to take risks for their business. And we even welcome a master companion among the shareholders, a man who deserves it, beyond the symbol. This 4th LBO is thus a wonderful example of transmission where everyone, our historical investors – BNP Paribas, BPI France, Esfin Gestion and BTP Capital Investissement, editor's note – who remain loyal to us, our lenders, and the outgoing shareholders, have worked towards a common objective: the sustainability of the company and its independence.
You have 75% left to discover.