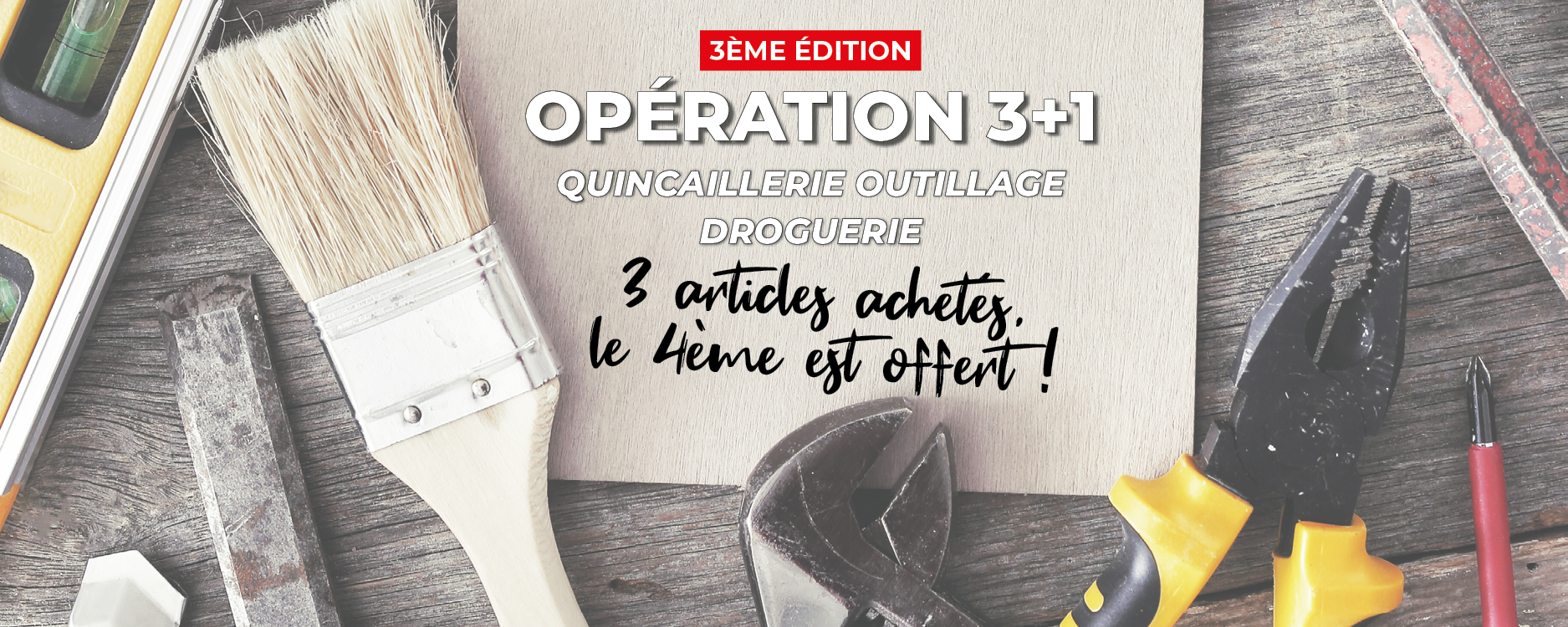 The 3+1 Hardware store operation is back for a 3rd edition !
From April 1 to 30, 2023, from 3 items purchased in the Hardware, Drugstore & Tools range, Batidoc offers you the 4th !
Are you starting to plan your spring construction sites? So now is the perfect time to take stock of complementary products… Make your life easier by ordering the appropriate accessories now.
And in addition, this offer is also available in delivery with your materials. Convenient ! Have the accessories delivered at the same time, directly to your site.
This operation is valid for the products in the Quincaillerie Batidoc general brochure.
In the program :
Door and floor accessories : door closers, anti-panic locks, cylinders, handles, door sills, stair nosings, etc.
Bindings : fasteners, dowels, glues, finishing seal, adhesives, mastics, etc.
Tools : guillotines, crimping pliers, knives for insulating or coating, plate lifters, cutters, measuring tapes, saws, hammers, etc.
Measuring instruments : rangefinders, lasers, wall scanner, humidity meter…
portable power : drills, nailers, radial saws, plasterboard screwdrivers, grinders, alligator saws, etc.
Landscaping : wood protection and treatment, structural accessories, shoes, post bases, fasteners, etc.
Individual protection : coveralls, noise-canceling helmets, protective gloves, goggles, disposable masks, etc.
Painter and cleaning tools : brushes, brushes, rollers, sponges, brooms, protective tarpaulins…
For hardware, Batidoc relies on expert brands: Hoppe, Impar, Soudal, Spax, Makita, Simpson, EDMA, Stanley, Groom, Rawlplug, Durieu, Dinac, 3M, Deltaplus, Tivoly, Perfect Tool…
So don't wait any longer, and quickly take advantage of our 3+1 offer!
BATIDOC – Hardware Catalog 2023 – General public
Pros Net Price excl. VAT version available on request
* Offer reserved for professionals, from April 1 to 30, 2023, in BATIDOC agencies inOrvault, Vertou And Angers.
The cheapest item of the 4 is offered. Valid on the rates in the general Hardware brochure. Depending on available stock, excluding current promotions and Makita batteries.
No return of goods is possible on this offer.
Offer also available in delivery.