In Paris, a remarkable heritage site transformed into social housing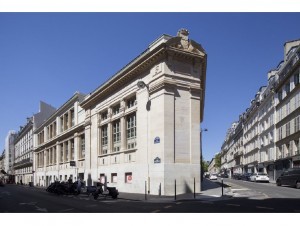 A remarkable heritage site rehabilitated into social housing. The production is by Vilogia, and takes place in the chic 9th arrondissement of Paris. The Second Empire building, occupied from the 19th century by schools, protected on the initiative of the
City of Paris
was transformed into 20 social housing units by the Daniel Vaniche & Associés and Bechu & Associés agencies.
A coworking space and a nursery that can accommodate 20 children have also been integrated into the project by the promoter Finapar. Operating completely autonomously, they are respectively managed by the companies WeWork and People and Baby.
Repair of facades and revegetation
The architects have, in this context, "kept to differentiate between the different programs" by providing separate accesses as well as a half-floor shift on the Condorcet courtyard to cushion the vis-à-vis between the coworking space and the accommodation, explains the lessor in a press release.
The works lasted 18 months. The existing facade on Condorcet Street has benefited from a facelift, new wooden windows have replaced the existing ones and the tiled roof has been redone identically, respecting the existing volume. This approach "Alike" also allowed the requalification of the Cour d'honneur.
The thickening of the building on the courtyard allows for more spacious accommodation, boasts Vilogia. A team of landscapers has also been commissioned to "to strenghten" the greening of the district: a roof planted with Mediterranean aromatic plants, a rainwater recovery station as well as a green wall that will be visible from avenue Trudaine and rue de Saron, have thus been created.
Vilogia wants to save land
This restructuring project is part of both the City's desire to create social housing in neighborhoods that lack it, and a broader strategy of transforming buildings tertiary in housing.
While the reversibility of buildings is emerging as a challenge for the future, the Vilogia group signs, with this residence, its third project of this type in Ile-de-France, after the transformation of the former Airbus headquarters into Student campus in Suresnes (92) and the conversion of the Tour Forum in Sarcelles (95) into student social housing.
85,000 housing units nationwide
The Vilogia group brings together five companies specializing in social housing. At the same time lessor, builder and developer, born more than a century ago on the initiative of a network of entrepreneurs from the North and based in Villeneuve d'Ascq, Vilogia is now established in the main tense areas . The group is backed by a portfolio of more than 85,000 homes across France and delivers more than 2,000 new homes each year.
The total price of the operation is 5.6 million euros including tax. The investment made by Vilogia benefited from the support of the City of Paris and the State.