In Saint-Denis, a motorway structure at the service of everyday life and sporting events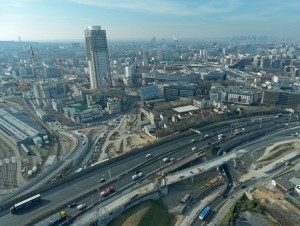 In order to best host the 2024 Olympic and Paralympic Games, and even before that the Rugby World Cup in 2023, the work in progress does not only concern sports, training and
housing
. In Saint-Denis, to get to the Stade de France, the future Olympic aquatic center and the Olympic village, the question of mobility is also at the heart of the issues. Including road mobility, around the A86, a strategic Ile-de-France belt, and often very congested.
In order to facilitate service, the so-called Pleyel interchange is undergoing major works. The goal: to completely rethink it, complete it, but also redevelop the surrounding routes. A technical project that takes place in a particularly complex environment, which cannot show any delay, carried out by a consortium of companies that brings together around ten brands of the group vinci, led by Eurovia. A multi-faceted structure, which must be put into service for the 2023 Rugby World Cup, by September.
Discover the project, candidate for the Best Building Site in France 2023 competition, in pictures in the rest of the article.