Let's invent the Metropolis of Greater Paris 3: the first winning projects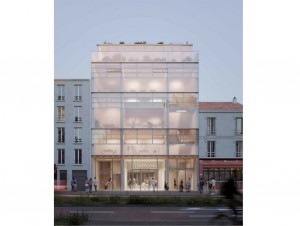 Of the 27 sites of the third edition of Inventons la Métropole du Grand Paris (IMGP), eight now have their own project. This call for innovative urban projects (Apui) has the particularity of not being a competition led by a single landowner, since it is the municipalities of the MGP (and even, sometimes, municipalities located outside) that carry the projects. . The number of sites as well as the areas put up for consultation make it
"the largest urban planning and architecture competition in Europe"
, according to Patrick Ollier, president of the MGP and mayor Rueil-Malmaison. It is on the occasion of
Mipim
in March, that the community presented the first winners of the Support.
Launched in 2017 and 2019, the first two sessions of IMGP represent 10 billion euros of private investments. What to certify "the relevance, vitality and attractiveness of this approach" as well as "the tremendous leverage effect" of such an approach. Of the 77 sites of the two editions, 12 projects are under construction, six projects have obtained their building permit, 12 projects are in the process of permit examination, 14 are under promise of sale or commitment protocol, and ten are in the process of being on point.
Four projects, finally, will be delivered this year, indicates the MGP: the Noue Caillet in Bondy (agent Pichet group), the 29 rue du Soleil in Paris (agent Clicks and slaps), the land of the Manoir in Vaucresson (agent ADIM ), the Bizet lands in Villejuif (Pichet representative). All of the projects for the two editions represent 2.6 million square meters to be developed, 717,000 m² of offices and 17,490 housing units, and 22 ha of green spaces.
Of the eight winning projects of the third edition of IMGP, 55,000 m² are planned, including a third of housing (266, for the most part private), 9,000 m² of schools and various incubators, as much hotels, 2,700 m² of offices, as many facilities, and the same surface for coworking and third places.
Find the eight winning projects in the following pages.