More than 1,600 buildings renovated thanks to a program to help local authorities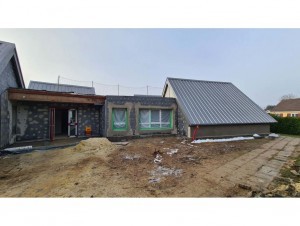 First assessment for the Actee program. The National Federation of concession-granting and governed authorities (FNCCR) presents the results of its system for the energy renovation of local authority buildings. The first period of the program, which ran from 2019 to 2021, made it possible to finance the renovation of 1,617 buildings. Indeed, the program paid 8.3 million euros to the winners, who, through the operations selected, released 130 million euros of work. "In total, 5,405 buildings were the subject of audits or studies and 56 positions were financed in the communities. In 30% of cases, work has been started. Each euro paid by Actee generated an average of 16 euros of investment from local authorities", figures the FNCCR, in a press release issued on April 3.
More than a third of global renovations
The first phase made it possible to support 74 communities, within 22 winning groups, in their desire for energy transition. A large part of the beneficiaries are rural municipalities, and the buildings concerned are mainly schools, town halls and multi-purpose halls.
The work mainly focused on the thermal envelope of the buildings and the replacement of the heating. However, 36% of the works were global renovations. "The FNCCR estimates that the average gain in energy consumption of the buildings treated is 50%, implying an energy saving of approximately 100 GWh per year, or the equivalent of the consumption of the city of Angers. The climate is the other big winner of this operation, with greenhouse gas emissions reduced by 61% on average", advances the federation.
220 million euros for the third phase
As a reminder, the program does not directly support the work but promotes "taking action" local authorities, with the aim of encouraging municipalities to renovate their heritage with energy and replace fossil fuels with less carbon-intensive systems. The funds mobilized make it possible to finance the positions of flow economists, who advise and plan long-term actions term within local authorities.They are the ones who define a renovation strategy, put together grant applications and monitor the work.
In fact, 56 expert posts dedicated to energy issues have been created. In addition, Actee finances audits and tools, such as the purchase of software or the installation of shared sensors. Finally, the program provides tools, such as maps, training and contractual documents to local authorities.
Today, the FNCCR begins the third period of the program, called Actee+, and plans a budget of 220 million euros between January 2023 and December 2026. "This new section is aimed at more specific sectors: sobriety in schools, electrical curtailment, public lighting, swimming pools, ice rinks as well as listed buildings and listed sites. Actee+ aims to initiate renovation actions in 30,000 municipalities, i.e. 85% of municipalities in France."