Public works could not stem the decline in activity in 2022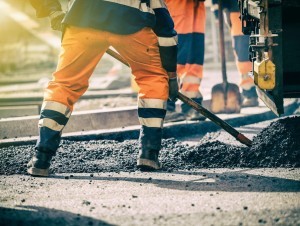 The year 2022 had started rather well for public works companies. Indeed, January had been dynamic, suggesting an upturn compared to the previous year. And this despite an already significant increase in production costs and pressure on the workforce. But from February and the start of the war in
Ukraine
the trend suddenly reversed.
Results: until August 2022, the work carried out by public works companies fell sharply. This is recalled by the latest economic note from the National Federation of Public Works, published on February 7, 2023 and taking stock of the 2022 financial year.
Late awakening and "historic" rise in production costs

From September, activity gradually picked up. The last quarter even recorded an increase of 5.1% compared to the previous one, and the autumn was thus much more dynamic than the summer. But this awakening will not have been enough to stem the decline in activity over the whole of 2022.
Indeed, if the turnover of the profession increases by 2.7% in current euros, the increase "historical" according to the FNTP of production costs, close to 10% at the end of November over one year, "restrains the growth of its real production". This is therefore down over the year as a whole, at -6.4%.
Unstable order intake

In terms of order intake, the situation is not encouraging either. If they had rebounded well in November 2022, December was moribund, with a drop in closed contracts of almost 18% over one month. They thus fall back to their lowest level of the year.
Throughout 2022, order intake has been choppy. Overall over the year, they fell by 3.1%, marked by the absence of an upturn in investments, in particular from public contracting authorities and while the electoral cycle should be more favorable to the development of projects.
The consequences on employment of this context are felt, even if the sector limits damage. Worker numbers, although on the rise in 2021, are thus stagnating a year later (-0.7%), under the combined effect of the erosion of production and recruitment difficulties. The overall volume of hours worked fell slightly (-1.3%), while those worked by temporary workers generally stagnated over the year (-0.1%).
A horizon that "remains grey"
Soaring prices for materials and energy, as well as the wait-and-see attitude in terms of investments, have therefore had a heavy impact on the public works sector in 2022. What can we expect in this context of 2023? "The horizon remains grey", worries the FNTP, the hoped-for revival of community projects still does not seem to be on the agenda. This is why the usually cautious professional organization is not counting on a miracle and is anticipating a further decline in activity for the current financial year.
It nevertheless notes encouraging signs: inflationary pressures are easing, and the financial health of local authorities is rather good. The basic ingredients are there, just have to start "a real acceleration of the public authorities' investment cycle"to reverse the trend.
Find our dashboard on the evolution of activity in the public works sector, in this article.