"Start the ecolution": Installers
Energy sobriety is the new issue at the heart of all discussions. Pumps are seen as a measure to contribute to this: inexpensive and quick to set up, with high savings potential.
Wilo is known to be a pioneer in high-efficiency pump technology in several application areas:
– Climate engineering
– Water distribution and overpressure
– Lifting and sanitation
Indeed, thanks to its high-efficiency motor technology and multiple regulation possibilities, our products save up to 80% electricity.
Switching to high-efficiency pumps pays off every time! So bet on Wilo energy efficiency and innovation: replace your obsolete or fixed-speed pumps with connected, variable-speed Wilo pumps.
" Start the Ecolution concerns all our customers: savings, innovation and solutions.
You, installers, let your customers benefit from Wilo high-efficiency technology and our innovative and reliable products! Save them up to 80% on their electricity bill!
Your customer will always be satisfied if their heating works reliably and their electricity bill stays affordable. Unfortunately, the latter is currently very high, as electricity prices are rising rapidly. Owners are therefore asking for any advice on possible savings.
Show your customers that switching to high-efficiency pumps pays off on all counts!
A small investment / a big impact for the wallet.
By opting for our Wilo-Stratos PICO high-efficiency circulator, you enable your customers to save up to 80% on electricity compared to a fixed-speed pump.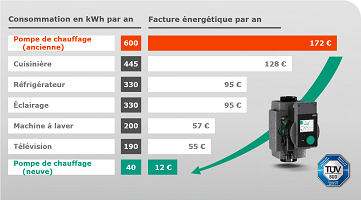 Bet on energy efficiency and innovation, get started with Wilo!
Wilo equips the new "Espace Mayenne" sports and cultural complex