The building greening market is growing in French cities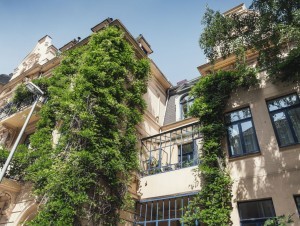 The greening of French cities is intensifying. This is shown by a study by the building greening market observatory, a document published for the first time in April 2023 by the association of green roofs and facades Adivet. The document – available for download
here
– presents the sector, its techniques, makes an inventory of the market,
cited
of the benefits of greening buildings for cities, and reveals the results of a survey conducted between 2020 and 2021 among players in the sector, contractors and public authorities.
In 2021, 1.6 million square meters of roofing was greened. The market recorded a growth of more than 16% between 2016 and 2021. The players in the sector predict an annual increase of 5% in the coming years. The study shows that a large majority of cities with more than 10,000 inhabitants are looking for solutions to fight the climate crisis. Indeed, 80% of these territories have developed or are currently developing a strategy for adapting to climate change. In addition, 60% of municipalities with more than 10,000 inhabitants have adopted measures in favor of the retention of rainwater.
Train all professionals in revegetation
For Adivet, the results of this study "make it possible to apprehend a sector which, after having shown very strong progress, retains a certain dynamic and which should increase in the years to come, taking into account the climatic and environmental context, the will of the public authorities and the control Techniques".
While the association views this trend as "positive", she believes that "much remains to be done" and recalls that the market across the Rhine is five times larger than in France. She would like to see several actions deployed, such as integrating bi-solar roofs (which mix greening and photovoltaic) to certain projects, that of training professionals (from the designer to the installer) in the revegetation of buildings, and that of supporting the public authorities, "through the law and local urban plans, so that the infrastructures making it possible to provide ecosystem services can be deployed widely".