The future of the Paris ring road in consultation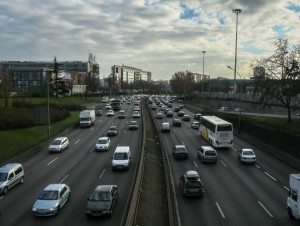 At 50, the Paris ring road could be offered a facelift. In any case, this is what Paris City Hall wants, which intends to create a lane reserved for carpooling, taxis and public transport on this circular axis. The goal: "reduce the expenses of Ile-de-France residents who travel by car and reduce the environmental footprint of motorized journeys"she says.
This reserved lane will initially be used from the summer of 2024 for athletes during the Olympic and Paralympic Games, to travel from accommodation sites to competition venues in a safe and rapid manner. The project would thus integrate the legacy phase of the Games, the mayor of Paris Anne Hidalgo wishing to perpetuate it by 2030.
Risk of "thrombosis" according to Valérie Pécresse
But the project is the subject of many criticisms. Among these opponents is the president of the Ile-de-France region, Valérie Pécresse, who believes that it is not "not possible to close a lane on the ring road (…) given the traffic". The 35km ring inaugurated on April 25, 1973 was in 2019 the busiest road in Europe, according to the research institute Forum Vies Mobiles. Every day, a million vehicles use it, including "less than 20% of Parisian users"while "40% of journeys are from suburb to suburb", underlines the president of the region. Removing a route would thus penalize Ile-de-France residents, according to her, and would lead to a "Thrombosis of Île-de-France".
At the end of 2021, the region, which wanted to recover the management of the infrastructure, had also organized its own online consultation on the future of the ring road. Of the 79,000 people who spoke, 90% said they were opposed to the removal of a lane on the ring road. A few months ago, another study conducted by the City of Paris itself also put forward a "very majority rejection" of such a proposal.
No questioning of the project
But for the town hall, it is not a question of removing a road, but of "transform" in order to make one "faster way" for less polluting transport. This transformation must also make it possible to "resolve congestion" traffic, contrary to what Valérie Pécresse indicates.
During this new consultation, organized under the aegis of the National Commission for Public Debate, opponents "will be able to express themselves", wanted to reassure David Belliard, deputy mayor in charge of mobility. And even if the subject is "open to discussion"the town hall does not intend to question its project, and the participants will have to decide on "the methods of implementing this dedicated channel".