The Maison de la radio completes its transformation, after 14 years of rehabilitation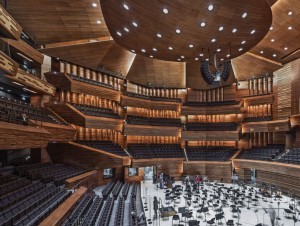 The Maison de la radio et de la musique is finally completing its transformation. It took fourteen years of work for this site to
Parisian
emblematic, which hosts Radio France, be rehabilitated. Located in the 16th arrondissement, the "Round House" and its 110,000 square meters is made up of offices, radio studios and performance halls. The public service group, which owns seven FM frequencies such as France Inter, Franceinfo and Mouv', as well as four musical groups such as the National Orchestra of France, has 50 production studios and employs 3,000 people. This renovation allows it today to strengthen its programming and its support for performing arts,
via
cultural projects. The site hosts many concerts, events, public broadcasts and family workshops.
The programme, launched in 2003, made it possible to create a new auditorium, renovate studio 104, build a five-storey underground car park, redevelop the archive storage tower into offices, restructure the entire large crown, and to modernize all the technical radiophonic means of the antennas. "The project management of Radio France piloted a very long-term project, one of the largest in Europe on an occupied site, and of incredible complexity", declares Sidonie Guénin, director of rehabilitation, during a visit to which Batiactu was invited.
Discover this major rehabilitation in pictures in the following pages…