The Racine tower, in Paris, wears its "scarf"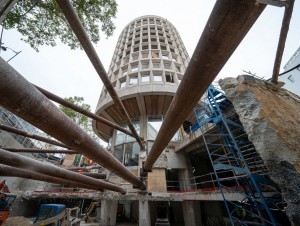 The Racine tower, former headquarters of the National Forestry Office, in the twelfth arrondissement
Parisian
, is being rehabilitated. An operation piloted by the company Alderan, imagined by the
architect
Maud Coubet and made concrete on the ground by
Fayat
building. It is a question, while respecting the architectural identity of this emblematic building built in the 70s, of transforming its uses, while opening it up more to the surrounding city.
This particularly complex site, in an urban environment, which Batiactu was able to visit, is divided into three sub-operations: the creation of an agricultural greenhouse on the roof, the renovation of the ten levels of the tower and the transformation of the five basement levels (three of them will remain car parks ). This last section is, in part, a new construction site. It consists in fact of the creation of a new building, as well as a "scarf" coming to surround the tower.
Discover the rest of the article in the following pages.