The University of Strasbourg acquires new contemporary spaces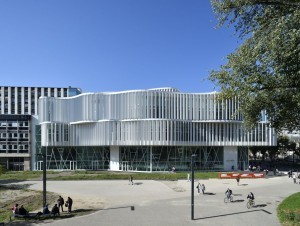 A new library has been born within the University of Strasbourg. The latter wanted to own a building that would be both a library and a student house. All while infusing the spirit of a learning centerthese spaces developed in English-speaking countries where catering sites, reading spaces and auditoriums mingle.
This new kind of building was imagined as a third place by the architectural firm Jean-Pierre Lott. In this project which encourages meetings and exchanges, the university, project owner, wanted to give users formal and informal spaces, which would respond to the new post-pandemic working methods. Thus, in addition to the classic consultation spaces, students can have modular rooms with mobile furniture, and rooms reserved for group work.
Discover the rest of the Le Studium project in pictures in the following pages…