What urban planning to decarbonize mobility?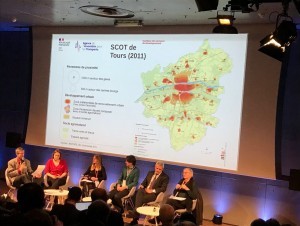 Urban planners and geographers looked into the question of the relationship between urban forms, transport and carbon emissions, during a round table organized as part of the forum of the Transport Innovation Agency (AIT). A question to be considered in relation to the way cities are built, while Zan (Zero net artificialisation) is gradually imposing itself on territories.
A subject that also depends on the residential choices of citizens, choices impacted, or not, by the massification of telework in recent years. Finally, a subject that requires questioning the transport offer between urban centres, and the accessibility of this offer, in addition to the quality of the service.
"We haven't missed everything for 40 years, but frankly we haven't succeeded in anything"
For the geographer Francis Beaucire, geographer and professor at the University of Paris 1, "opening up land to urbanization remains the number one problem" in France, where urban sprawl has been practiced more than in most European countries. However, this spreading results from two opposing forces: "the land, constrained, and the aspirations of the population to move as soon as tools exist".
From this point of view, "we haven't missed everything for 40 years, but we haven't really succeeded in anything"laments the academic, who explains that "if we continue for 30 years to grant building rights as we do today, the distances traveled will increase by 15 to 20%". Only a modification of the location of the buildings would, according to him, make it possible to stop this dramatic increase, necessarily energy-consuming and potentially emitting carbon.
You have 67% left to discover.