With its Ecolodgees, Futuroscope goes green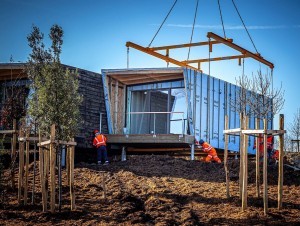 A few kilometers from Poitiers, the Technopole is the economic heart of the Vienne department. Not far from the motorway and the high-speed line, this vast artificialized 200ha business park accommodates more than 7,500 employees, 2,000 students, and 250 establishments. At its heart, the Futuroscope, the first amusement park created in France in 1987, towards technologies, innovation, science and the discovery of the world, where more than 2 million visitors flock each year.
In 2020, and while the health crisis linked to the COVID-19 hadn't finished knocking yet, Futuroscope drew up a vast investment plan. Objective: 300 million euros to be put on the table within ten years, of which 75% by 2025, to write a new story, increase park attendance, expand and diversify its activity.
Among the projects, the construction of a new hotel offer, with two themed hotels. The first, Station Cosmos, opened in 2022, fitting into the universe of the park and its futuristic dimension, plunging the traveler into the field of space conquest. The second is more atypical in relation to this universe, more oriented towards nature and sensory experience.
Find out about the construction of this new themed hotel space later in the article.