You don't have to be visible to be remarkable!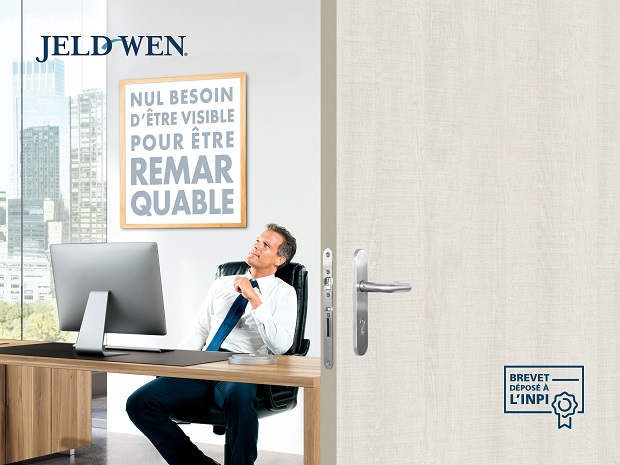 Since 2014, all Fire doorsets must be equipped with intumescent seals to achieve the fire resistance performance in force. At JELD-WEN, there is no need to look for these on the frames or uprights because they are directly integrated into the leaf of our EI30 solutions.
The solutions
Fire EI30 JELD-WEN
with patented invisible intumescent seals are a real innovation on the door set market. These seals – directly integrated into the leaf – guarantee the reliability and safety of the occupants in all sobriety and with aesthetics as a bonus.
In practice, what does it change?
This EI30 Fire concept without visible intumescent joints (tested according to European standard EN 1634-1) acts discreetly while being:
– Efficient,
– Preserved from damage,
– Inaccessible to manipulation,
– Protected from wear,
– Protected against bacteria
These doorsets are compatible in new construction with wooden frames and metal frames (fire or not), but also in renovation with JELD-WEN rehabilitation solutions. They can be installed on rigid support partitions (concrete, blocks, concrete blocks, terracotta bricks), on flexible partitions (dry partitions) or with adjoining glazed frames.
Enough to ensure regulatory compliance and the comfort of buildings with ease and in a minimum of time!
Thanks to the absence of visible joints on the door jambs and on the frame, our EI30 door sets are easy to install, painted and are available in 8 high-performance solutions:
1. Fire resistance : Single Action doorsets compliant with European fire regulations and with a fire resistance of 30 minutes with or without lock.
2. DAS Single Action certified NF: perfect fire safety thanks to compartmentalization and horizontal and vertical circulation in the buildings.
3. Acoustic Performance: from 29 to 42 dB.
4. Stability and thermal insulation for landing doors: acoustic performance of 30 to 42 dB possible.
5. Burglary security (Class 3 or A2P BP1 under renovation): different levels of potential safety and comfort.
6. Maximum protection for toddlers: wide "Nursery School" range equipped with anti-finger trap seals suitable for early childhood establishments and pediatric services (in fire and acoustic version)
7. Resistance and accessibility of technical ducts: protection of users against risks related to technical installations and guarantee of simplified access for maintenance actions.
8. X-ray shield (several levels of protection to choose from): protection of imaging professionals and patients from all harmful radiation.
A complete range that meets the challenges of all sectors & all uses
Equipped with efficient and diverse technical characteristics, EI30 doorsets are suitable for many sectors of activity: health, education, collective housing, offices and administrations, culture and sport or even the hotels and restaurants… they offer an aesthetic and reliable response whatever the daily constraints of buildings, their users and visitors.
Beyond innovation, quality is also in the details
Fully customizable according to your needs, this range Fire EI30 JELD-WEN designed, developed and manufactured in France meets all expectations and uses: recessed door closer, mechanical or electronic locking, invisible hinges, panic bars, fireman's bolts, emergency closures or many DAS configurations. .
Also available in laminate finish with or without insert (black or stainless steel finish), fine wood veneer to be varnished, decorative moldings or grooves, protective plate… dare to personalize. Our solutions fit perfectly into any environment! In addition, it is quite possible to make these doorsets cohabit with other JELD-WEN solutions such as glass partitions, Single Action 1 hour doorsets, or Double Action EI30 and EI60 doorsets or Largement solutions. Glazed…
Aesthetics, safety, comfort: for your needs, your daily uses and your desires, there is necessarily a JELD-WEN solution to meet them!